Description
: This campground has the romantic charm of Cape Cod written all over it. Even though it is close to Hwy 28 it is very private with a nice distance between sites. The people working the front desk are very friendly and helpful on anything you may need during your stay. It is centrally located for visiting the Cape or driving up the coast to Plymouth or Boston and other cites around the area.
Amenities
:
• 30/50 amp sites offering water, electric, sewer and cable TV
• 20 amp tent sites offering water, electric and cable TV
• Pull through sites available
• Fieldstone fireplace & picnic table on every site
• Open camp fires permitted
• Paved roads
• Firewood & ice available for sale
• Free Wi-Fi hotspots
• Clean restrooms with complimentary hot showers
• LP bottle gas refills
• Modern new laundry center
• Planned activities & weekend entertainment (in season)
• Enclosed Dog Park for our furry four legged friends
• Three (3) pools (opening & closing dates vary depending upon the weather)
• Clammy's, our ice cream parlor, coffee counter & convenience store
(in season)
• Top Dog, our outdoor eatery serving fried & grilled foods (in season)
• The Silver Cottage, a unique rendition of a Cape Cod cottage, selling estate sterling silver jewelry (in season)• RV & camping supplies
• Two (2) playgrounds filled with fun equipment for the kids
• Game & video arcade room
• Picnic & activity pavilion
• Baseball & sports field
• Tennis court
• Horseshoes
• Volleyball & Basketball
• Shuffleboard
• Sports equipment & DVD rentals available for loan with deposit
• Complimentary air filling station
• Passenger tickets for Martha's Vineyard available
• RV storage for short or long term available
• Partial handicapped accessibility
• Cape Cod area brochures & information available in our office
Directions
: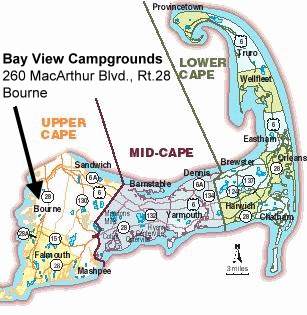 Web Site
:
http://www.bayviewcampground.com/
Rate
: $49.00 per night ~ no discounts
Date of Stay
: May 30th, 2012 ~ 7 nights
Favorite Sites
: Stayed on Site#6 and it was a FHU pull through ~ Good site
Weather During Stay
: Varied between 65* - 79*
Phone/TV/Internet
: No Satellite TV due to trees but the park had cable TV. Both AT&T and Verizon worked well. Verizon Mi-fi card worked great (4G)
Elevation/Landscape
: Wooded with gravel sites and some dirt areas... fairly hilly.
Lighting/Noise
: Even though we were close ti Hwy 28 the noise level wasn't bad at all and it is dimly lit at night. No problem sleeping what-so-ever!
Hiking/Walking/Biking
: Lots of roads within the park for walking.
Things to See & Do
: Cape Cod National Seashore ~ Plymouth ~ Provincetown ~ Martha's Vineyard ~ Sail & Rail on the Cape Cod Train ~ Cape Cod Potato Chip Factory ~ Clamming, Fishing and so much more...
Rating
: (8.5) I liked this park and enjoyed our time here....